30 years ago, on this day at 11:11am, I was brought into this world by the two of the most important people in my life. These two people gave me everything that they had, their love, their support, their qualities. My Mother gave me passion, creativity, music, and art. My father gave me strength, integrity, ingenuity, and forgiveness. (if you asked him it would be quite a bit of forgiveness :)

In any case, these two people who brought me into this world gave me just that, the world. Through them and others that have joined me in my life over the years I have nothing but gratitude for all the knowledge and experiences that I have. Some more than others, some that I cannot bear to think to be without, however all of them enriched my life in some way or another.

Over the course of the past 30 years I have been through allot. I have seen allot of hurt, I have dealt with allot of pain and suffering. Disappointment, grief, sorrow, and shame. Through all of this, those people in my life. My Mother, my Father, my Step Mother (who is as much as my mother to me as my own mother), my sisters, my family... they have all picked me back up, helped me dust myself off and keep moving forward. Because of this, because of them, my life has been filled with Love, Joy, pride, passion, happiness, laughter, and much more. If it wasn't for the way they guided me throughout these past 30 years, I would have not made the friends I have whom I cherish. I would have not been the musician that I became to be. I would not have met the woman who I fell in love with, married, and had given me two of the most amazing children. Words cannot explain the happiness and joy they have all brought me, that they have brought into my life.

So, even with everything said, with all the hard times, pain, hurt... The good that all of these people have brought into my life far out weight those times. I have been, and always shall be fortunate to have had the life that I have had over the past 30 years. I love all of you. Mommy, Dad, Mom, Brit, Michelle, Alicja, Katya, (little)Adam, Dale, Big Jon, Jan, Joe, J, #4, Auggie, Sarah, Xander, Piper, Caleigh, Lisa, Nanny, Poppy, Zoe, Noah, (computer) Adam, Eli, Tim, Steve, and those of you who have by comparison that have "recently" entered my life.

I owe everything to you. Thank you for all of the great things in my life. Thank you for all being there, for picking me up, dusting me off and helping me get back to moving forward again.

Any of you who are wishing me a happy birthday, please thank those in my life who brought me here, thank my three parents, my family and my friends. Take the time today to thank the ones in your life that you love, that you owe everything to. Thank your parents, your children, your partners, your friends.

Mom, Dad, Thank you for bringing me into this world. I only hope that I in some way I have made you proud. Jeanie, you didn't bring me into this world but I owe just as much to you as well.

I love you all...

Sincerely,
Eric
Came across this...

Stray Children Anime

I remember Neko-chan trying to basically get me to sell my soul for that Multi-gen & LD player.

A whole season of Lupin subbed in a weekend.... ah, those were the days. O_o;

(Spacebar).... (Enter)(Spacebar)... (Enter)

Current Mood:

nostalgic
I just want to sleep.

Is that too much to fucking ask for?
Went to the movies with the kids to see the "meatball movie" (Cloudy with a chance of Meatballs)They were extremely well behaved and we all had a blast. It was fun.

They honestly blew me away. We have such amazing kids.

Afterward they begged me for some popcorn, so I bought a small bag for the ride home. In the span of 5 min, all the popcorn was gone from the bag and on the seat and floor of the car. $5 well spent. lol :) I don't care if the kids spilled, the car is trashed anyway, just found it more amusing than anything. I think something is wrong with our basset though, an attempt to clean it up a bit, I let her into the car.

I think she was thinking she was going somewhere, because she didn't even touch the popcorn, just kept looking at me expectantly.

Oh well, her loss.

Now that Piper's not a baby and we have a "gauge" of how well she sits in movies, maybe we'll be able to do this more often.

Overall a pretty good day.

Current Mood:

These kids
Behold the Awesome!



Current Mood:

METAL!

Current Music: Dethklok
» Dude I totally miss you...
Other than the Tenacious D ref...


I'm in the middle of an Alien('s,AVP, AVPR) marathon and Brian's nowhere to be found...

Dude... you should totally be here. I need you man.

MAZE!? "What do you mean, "*They* cut the power"? How could they cut the power, man? They're animals!..... That's it man, game over man, game over! What the fuck are we gonna do now? What are we gonna do? "

» days of old...
sitting in the backyard with a fire going.

posting from the pocket pc...

I miss you Bri and the nights we would just sit in front of the fire for hours.

» kinda like that....
feeling a bit like Ash here at about 2:01...



Ah, such a great movie.

» hmmm....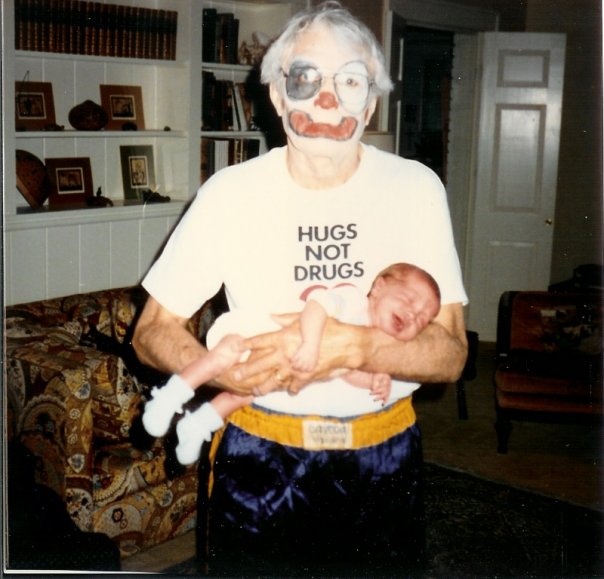 Yeah.....um... Yeah...



That is all.